---
---

The table gives all the birds (more then 250 species) that I could find reported to be observed (seen, heard, caught) in the Weg naar zee area, a road leading to the sea some ten miles west from Paramaribo centre. Most of the road goes through an agricultural area, at the end you find mangroves and mudflats near the sea.

The right column gives the number of times an observer made a report, that was subsequentially processed into my database . How big a group of birds was seen each time, is not indicated here as only one observation per day is counted. The list of reports begins in 1945.

All of the names in the table are linked to pages on this website that describe the bird, and sometimes have one or more photos, sounds or videos of it.
The table was created by J.H. Ribot, with the help of many birders.


---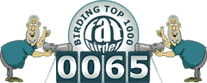 Last update: August 2018 by Jan Hein Ribot. Please mail your comments or observations to: jhribot (at) gmail (dot) com.
The world wide web started in 1993! (and this site in 1996).